Coaster CMS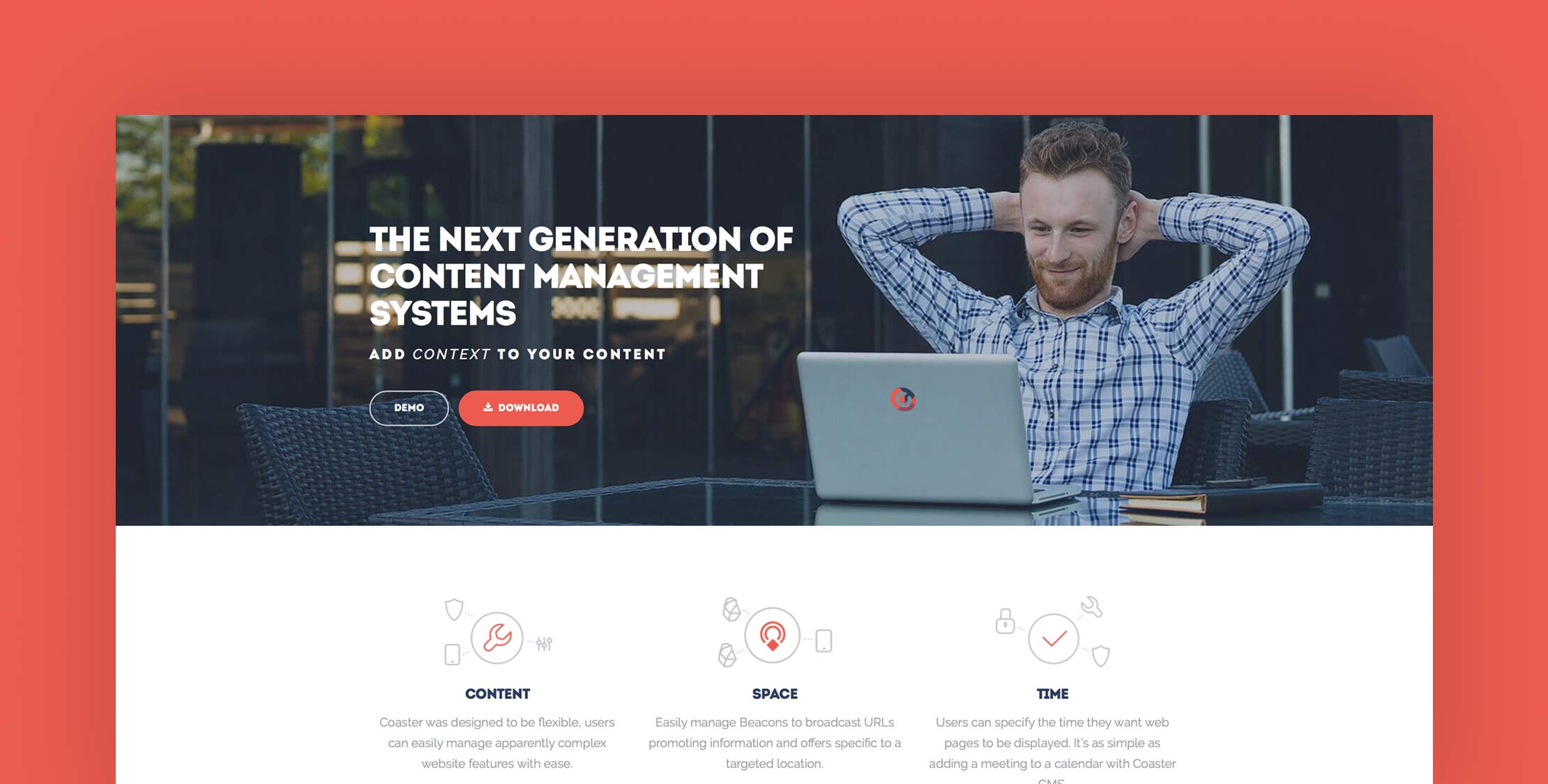 Coaster CMS is a Laravel powered CMS created by the full-service digital agency Web-Feet.co.uk. Being an agency, they specialize in offering solutions to a wide range of clients, and this is where Coaster CMS was born.
"With eight years of combined developer experience of multiple CMS systems led us to a belief that there was still a market out there for a "block based CMS system" that didn't confuse a user when they logged in to manage content.", said senior developer Daniel Chadwick, "We had a pretty strong set of core ideas that keeps Coaster tied to being flexible in development and simple for the end user."
Coaster CMS made its first official launch in March of 2016 they released it as open source to give back to the community and give people a different CMS option. Since then, the project has grown, and they just released v5.4 which includes a new WordPress importer, a new theme, full page caching, and more.
Coaster CMS Administration Highlights
The admin also features an advanced permissions setup and unique time specific content versioning, which allows pages to show different content at different times of the day.
Coaster CMS Beacons
Beacons are something I haven't heard of before and from the Coaster CMS site here is what they are:
A beacon is a small Bluetooth radio transmitter. Think of it like a small lighthouse: it constantly transmits a signal that devices can see. Instead of light, they emit a very short-range radio signal transmitted on a regular interval of approximately 1/10th of a second. A Bluetooth-equipped device like a smartphone can "see" a beacon once it is in range. Depending on both devices' proximity, a smartphone can perform several different actions. It can update an indoor map with your location, open a lock, or even change the music in your house as you walk from room to room. Beacons are a key technology in connecting the power of the Internet to our everyday life.

The key to the power of Beacons is that they are 'location aware' meaning that the information they broadcast is tailored to their location. This means that the user experience is incredibly valuable as there is no need to sift through irrelevant data. The experience can also be very personal to the user, as mobile phones are very personal devices.
As an example, you could have a page dedicated to an event that your company will be attending and linked to a beacon at the conference stand. The, when people are on their phones near the stand, they would see the notification for the page. This would be perfect as a lead generation system where it could have a form on the page to get their information.
Another example is a museum or an art gallery. You could have content pages that are dedicated to an art collection or individual items; then people could find out more info from their phones.
Time Specific Versioning
Time specific versioning is a unique feature that allows you to set up content that should be published at a specific date or time, or go advanced and have special content only appear on particular days of the week or times of the year.
Developer Friendly Features
Coaster CMS is also developer friendly, and you'll feel right at home since it utilizes Laravel and has embraced Laravel's tooling such as Blade, Mix, migrations, Artisan, etc. Plus it supports powerful features for creating themes, great documentation, and a robust blocks system that includes the following types:
String, Dates, and Links
Forms
Gallery
Images
Selects
Videos
Repeaters
With these different types, you can create some unique and powerful views.
Getting Involved
If you'd like to get involved with the Coaster CMS project, they have a growing and active Slack channel, the GitHub repo for pull requests, and would enjoy having more themes created if you are of the designer type.
You can download the CMS, try it out, and join the community all from the Coaster CMS site. Give it a try and add a new CMS to your arsenal.
---
Many thanks to Coaster CMS for sponsoring Laravel News this week.
Eric is the creator of Laravel News and has been covering Laravel since 2012.