Your Favorite Laravel Development Agency
We are a leading software development company based in Dallas, Texas, crafting game-changing digital solutions tailored to your business. Our extensive experience spans across startups to enterprise-level organizations, demonstrating our flexibility and commitment to delivering high-quality code.
Lucky Media is proud to be recognized as a Top 10 Laravel Development Agency by Clutch, a leading B2B ratings and reviews platform. This recognition is a testament to our dedication, expertise, and commitment to delivering top-notch Laravel solutions that drive business growth. Our team's unwavering focus on quality, innovation, and client satisfaction has earned us this prestigious ranking. We invite you to experience our award-winning Laravel development services and see why we are a trusted partner for businesses worldwide.
Feeling Lucky? Contact us now to discuss your amazing Laravel project!
Working with Lucky Media is like having a Swiss Army knife in your pocket. Just as a Swiss Army knife has a tool for every situation, we have a digital solution for every business challenge. Whether you're a growing startup or a well-established enterprise, we've got the perfect tool to carve your path to success.
Case Studies
Our success stories highlight our versatility and innovative spirit:
An AI-powered Laravel web application that streamlines email responses for lead contacts, enabling efficient communication and client acquisition. Read Full Case Study
A Laravel web application that revolutionizes patient management for a multi-location polyclinic, with a streamlined appointment system and enhanced staff cooperation. Read Full Case Study
A React Native mobile application dedicated to promoting a capital city's tourist attractions, enhancing the tourist experience with features for rating tours, providing feedback, instant reservation and payment, and more.
A Laravel web application for a hosting company, utilizing WHMCS, Enom, and CPanel APIs to enhance UI/UX, streamlining domain and hosting registration processes, ultimately driving increased client profitability.
Explore more of our case studies and see how we can transform your business!
Whether you're looking for an internal web tool with API integration or a custom SaaS app, we're all about smooth interfaces, modern aesthetics, and a zero-tolerance policy for bugs.
Our team of developers excels in modern web development frameworks such as Laravel, React, React Native, Vue, Next.js, Node.js, Alpine.js, Statamic and TailwindCSS. As a Laravel development agency, we pride ourselves on our expertise in this robust PHP framework.
Here's a lovely little thing Taylor Otwell said about us: Thanks to the team at @LuckyMediaDev for helping us get a head start in this area via their initial work on a Breeze React port! ❤️
Get Lucky today, the ideal choice for Laravel development!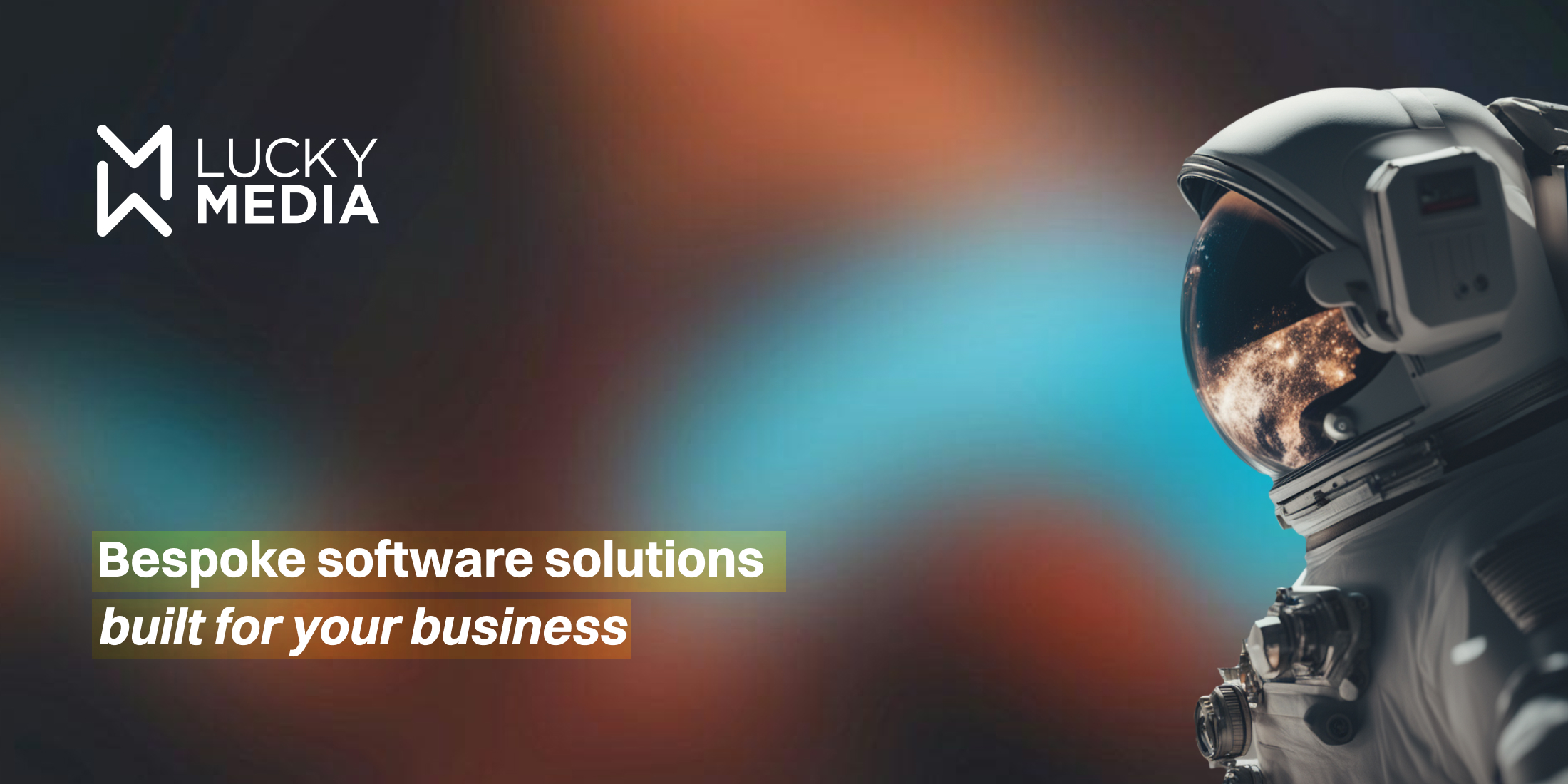 Our Laravel Development Services
Custom Laravel Development: We don't believe in one-size-fits-all solutions. At Lucky Media, we specialize in custom Laravel development, creating robust and scalable solutions tailored to your unique business needs. We focus on delivering solutions that not only meet your current requirements but also have the flexibility to evolve with your business, ensuring long-term success.
Laravel API Services: Our Laravel API services are designed to facilitate seamless integration and communication between your applications and third-party services. We build RESTful APIs using Laravel, ensuring high performance, security, and scalability. Our APIs are carefully designed to provide smooth data transfer, enabling your applications to interact efficiently with other systems and services, thereby enhancing their functionality and user experience.
Laravel E-commerce: Lucky Media offers comprehensive Laravel E-commerce solutions that help businesses establish a strong online presence. We leverage Laravel's robust features to build secure, scalable, and feature-rich E-commerce platforms that offer an intuitive shopping experience. Our solutions are designed to handle high-traffic volumes and complex product catalogs, ensuring your online store always remains efficient and reliable.
Laravel Migration & Framework Upgrades: We provide Laravel migration and framework upgrade services to help businesses stay up-to-date with the latest technology trends. Our team ensures a smooth transition, preserving the integrity of your data throughout the process. Whether you're migrating from a legacy system or upgrading to a newer Laravel version, we implement best practices to ensure your application benefits from improved performance, security, and scalability.
Continuous Maintenance & Support: At Lucky Media, we believe in forging long-term partnerships with our clients. Our continuous maintenance and support services are designed to ensure your Laravel applications remain up-to-date, secure, and efficient. We provide regular updates, perform routine checks, fix bugs, and make necessary improvements to ensure your applications continue to deliver optimal performance.
Laravel Staff Augmentation: Our Laravel staff augmentation services allow you to scale your development team as per your project requirements. We offer skilled Laravel developers who can seamlessly integrate with your existing team, bringing their expertise and experience to your projects. Whether you need additional support for a short-term project or long-term assistance, our staff augmentation services ensure you have the right talent at the right time.
Let's build your custom Laravel solution today!
FAQ
What Laravel development services does your agency provide? Our Laravel Development Agency offers a range of services, including custom Laravel web application development, Laravel API development, Laravel migration services, and Laravel e-commerce development. We also provide ongoing Laravel support and maintenance to ensure your web application performs optimally. Our team of Laravel experts is adept at creating high-performing, scalable, and secure web applications that cater to a variety of business needs.
What makes Laravel a beneficial choice for web development? Laravel, a highly-regarded open-source PHP framework, provides a powerful template engine, MVC architecture, Artisan CLI, a database migration system, and robust security features. As a leading Laravel Development Agency, we value Laravel's scalability and flexibility, which make it an ideal choice for crafting complex web applications. Its user-friendly syntax and extensive community support further enhance its appeal for web development.
How experienced is your Laravel Development Agency? Our Laravel Development Agency boasts a broad portfolio of Laravel web applications developed for a diverse range of clients across various industries. For instance, we built a sophisticated web application for a multi-location polyclinic to manage patient appointments and records. We've also harnessed the power of the OpenAI API to create a custom application that extracts lead emails from a client's CRM, analyzes the emails, and generates tailored responses for their sales team. Our extensive experience and innovative approach make us a trusted choice for Laravel development.
What steps does your Laravel Development Agency take to ensure quality control? To guarantee the highest quality Laravel web applications, our Laravel Development Agency adheres to industry best practices and employs state-of-the-art tools. We implement regular code reviews and conduct thorough testing to ensure our applications are secure, scalable, and fully functional. Our commitment to quality control is unwavering, and we strive to deliver Laravel applications that exceed client expectations.
What is the typical timeline for Laravel web application development? The development timeline for a Laravel web application largely depends on the project's complexity and scope. However, our Laravel Development Agency is committed to working diligently with clients to deliver projects within the agreed timeframe without compromising on quality. We understand the importance of timely delivery and work proactively to meet deadlines.
Do you offer post-development Laravel support and maintenance? Yes, our Laravel Development Agency provides comprehensive post-development support and maintenance services for Laravel web applications. Our expert team ensures your web application stays up-to-date and operates at peak performance through regular updates, bug fixes, and maintenance. We're dedicated to helping your business succeed long after the initial development phase.
Can your Laravel Development Agency integrate third-party applications with Laravel web applications? Absolutely, our Laravel Development Agency has extensive experience in seamlessly integrating third-party applications, including APIs, plugins, and other apps, with Laravel web applications. We understand the importance of interoperability in today's digital landscape and strive to create Laravel applications that can easily communicate with other systems.
What is the cost of Laravel web application development? The cost of Laravel web application development can vary based on several factors such as project scope, feature complexity, and project timeline. Our Laravel Development Agency offers competitive pricing and provides a detailed cost breakdown during the initial consultation. We believe in transparency and work closely with our clients to deliver cost-effective Laravel solutions.
Could you explain your Laravel web application development process? Our Laravel Development Agency follows a robust and agile development process for Laravel web applications. This includes a comprehensive discovery phase, prototyping, development, rigorous testing, and deployment. We maintain close collaboration with our clients throughout the process to deliver a web application that aligns with their specific needs and business objectives. Our process is designed to ensure maximum efficiency and client satisfaction.
Is your agency recognized as a Top Laravel Development Agency? Lucky Media is recognized as a Top 10 Laravel Development Agency by Clutch. We have a proven track record of delivering high-quality Laravel web applications that meet and exceed our clients' expectations. We have successfully completed numerous Laravel projects for clients across various sectors, demonstrating our versatility and commitment to excellence. Our client testimonials and case studies further attest to our standing as a top Laravel Development Agency. We strive to provide the best Laravel development services, ensuring our clients' businesses thrive in the digital landscape.
Things we love to do
Web applications
It's never been more important to leverage technology to connect with staff and customers. A web app might be the ideal option for your internal tool or SaaS solution, whether you want to integrate online ordering and delivery or use a content management system. And if you're a start-up in need of an MVP, we can work with tight timelines to make it happen.
Internal Tools
MVP Development
SaaS Development
API Integrations
Mobile apps
Using React Native, we ensure your mobile app is accessible on all major platforms, loads like a dream, and has a code base you can count on. We test tirelessly for usability and feature performance too, so your users can focus on what matters most.
By 2025 there will be 7.3 billion smartphone users on the planet.* Yes, that's a lot. Most of us use mobile apps on a daily basis to communicate, shop, travel, bank, workout, and a whole host of other essential tasks. Building your own app means you can be in your users' pockets, accommodate their unique needs, and keep them loyal.
Mobile Applications for SaaS
Native MVP Apps
React Native Applications
Websites
Your website needs to be super- fast, flawless, and friction - free to set your business on the path to success not a copy / paste of what everyone else is doing.
We know that one size fails all, which is why we design and build mobile-responsive sites with your users top of mind. We create smart bespoke systems to meet your needs, maximizing the latest technologies and testing until you're completely satisfied.
Corporate Website
Business Website
E-Commerce Website
Landing Pages