The Artisan Files: Maks Surguy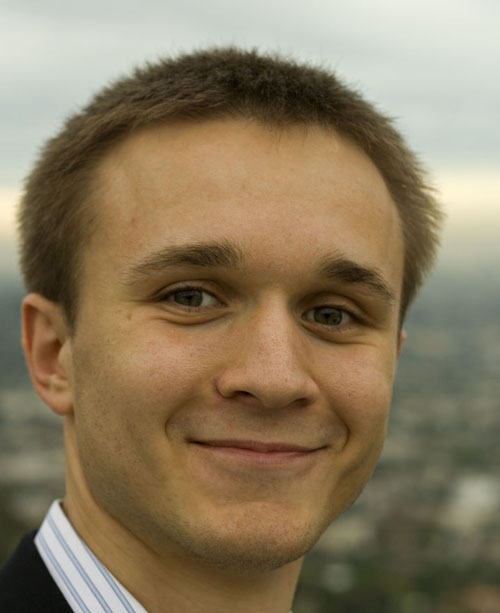 This week I'm happy to introduce you to the "official Laracon breakdancer", Maks Surguy.
Can you tell us a little about yourself? How'd you get into web dev?
I am a Ukrainian, moved to the USA with my parents and brother when I was 17 years old. Before I moved here I was a professional breakdancer by night and studied programming by day at a local college. After coming to the US I've earned bachelors in Computer Science while working in IT for a school district. Recently my wife and I moved to Seattle area from Southern California and we are enjoying the new adventures and the new opportunities that come up here.
One of my pastimes in my teen years was browsing well-designed websites made with Flash. I started making my own Flash websites (wasn't very good at it) and some of them required backend code. Building flash-powered guestbooks/blogs and file uploaders made me learn a backend technology and that's how I met PHP many many years ago. After getting my CS bachelors I quit IT field and switched to web development full time.
Do you remember how you first came across Laravel and what you made you start using it?
It was love at first sight (please, don't tell my wife). It was April of 2012. I was a part of a small startup and my responsibility at the time was finding a framework that would power our application. I decided to make a list of 20-30 frameworks (not just PHP), try them all and see which one gets me to my goals the fastest. Most frameworks I couldn't even install but out of those that worked right away, Laravel (v3) blew me away and within an hour I had built a small blogging app. I was sold on Laravel's intuitive syntax, MIT licensing and the promise of "enjoying the fresh air".
You grew up in the Ukraine. Was it a culture shock moving to the US?
It was a complete transformation for everybody in my family. Language, food, weather, money, friends, home, everything was different. Southern California is known for its latino population and in Ukraine there aren't many other cultures blended together like here in the US so it was difficult to be a minority.
Despite the hardships and the culture shock, like many other immigrants my family has adjusted well and with God's help has built a successful life here, on the other side of the planet.
How is your book coming along? Do you have a release date yet?
I have two books in the process.
One is about integrating frontend components into web applications and it shows the back end developers how to integrate date pickers, tagging, spinners, AJAX contact/registration and login forms, AJAX uploaders and more. This book has over 200 pages and is scheduled to be released by July 12. The 170+ readers of the book have been extremely happy with its content.
The other book is called "Laravel in Action" and I am currently in process converting the book from Word to Markdown format. The book features over a hundred diagrams, tables and code samples to help developers understand how to get started building applications with Laravel. Some of the chapters of "Laravel in Action" will be published on my blog and on Leanpub by mid-July. Both books will be available on Leanpub under my name msurguy when they are completed.
You release new sites like every other week, how do you find the time?
About a year ago I have decided to work 4 days a week and have the Fridays off to work on my own projects. That one extra day allowed me to maintain Bootsnipp, publish a PhoneGap video course on Tuts+ and start writing "Laravel in Action".
Over the months the income from my own projects has matched the income I would get from work and I was able to quit my full time job all together to focus on my blog, books and transforming own ideas into websites. I bring a sketchpad with me wherever I go. In it I sketch out the user interfaces for the ideas I have and outline enough detail to allow me building a prototype for the idea. My wife and I travel a lot; I use the time spent in transit to make lots of sketches and concrete steps to build my next idea.
When I get home I quickly build a prototype of the website and release it after I get to MVP stage (minimum viable product). I have over 30 projects already released and another 10+ still in the sketch phase. My latest one built with Laravel and deployed with Forge is called "PanoPanda.co". It allows people to share large scale photos(panoramas) with friends and family while retaining full ownership of the photos.
My typical day consists of about 1 hour catching up with social media, working 2-3 hours at my part time job (building websites for another company), another 2-3 hours are spent working on one of the books or blog posts and the rest of the work day is devoted to one of the many projects including Bootsnipp. The time after 7pm is family/friends time – hanging out with my wife, watching TV, playing boardgames. I often work on Saturdays if we are not traveling and can get quite a lot done when I turn off all distractions.
Outside of web development and break dancing do you have any other hobbies?
Over the years I've had a fair share of interests. When I was 7 I discovered a stash of my dad's technical magazines. No, they were not about women. Mind you, these were sort of "Wired" of its day. I think reading these magazines and my dad's wide worldview have inspired me to be passionate about technology, innovation and moving the world forward.
My dad taught me how to solder when I was 10 and I have built many interesting devices like RC-circuits, robots and FM-transmitters since. I have a strong understanding of electronics/schematics and years of experience building extremely small circuits without the use of any special tools. This skill came in handy when I got into building RC airplanes that could be flown inside of a house/gym. My personal record is building an extremely lightweight infrared remote control system for a micro Spitfire. You can see it on my blog here. The total weight of the electronics on the plane is under 100 milligrams (0.1g!!!). I have built a few dozen micro airplanes completely from scratch, from start to finish (receiver/transmitter/body/design/etc) and they all fly.
I have built bigger RC planes as well and have strapped cameras on them long before drones became mainstream. My other hobbies include: large scale panoramic photography, BEAM robotics, programming Arduino, 3D printing and 3D modeling.
If you could be a superhero, what superpowers would you want?
Flying like Superman would be number one for me. I've gone skydiving and that came pretty close. Another one would be teleportation because there are a lot of places I'd like to see and some of them are very remote.
Eric is the creator of Laravel News and has been covering Laravel since 2012.